COPPER SHEETS & PLATES
Copper Sheet & Plateb continues to be used for a wide variety of fabrications across many industries. It is easy to hammer and shape, rivet, braze and weld to produce items such as tanks, boilers, pressure vessels, hot water.
These sheets are perfectly matched up with the end applications such as crafts, embossing, manufacturing, electrical applications, building construction, transmission, power generation, industrial machinery and other similar applications. Other than this, the copper sheets also find application as electrical conductors, hardware use in electrical circuits, switch terminals, electrical contacts and other areas.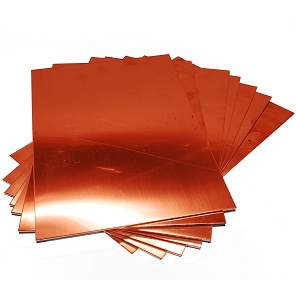 Sizes Available :-
Width : From: 300mm up to 1250mm
Length : From: 1250mm up to 2500
Thickness : From :0.3 up to 8mm and above